SHERDOG INTERVIEW
K-1 and Akebono Fly Special Trainer to Japan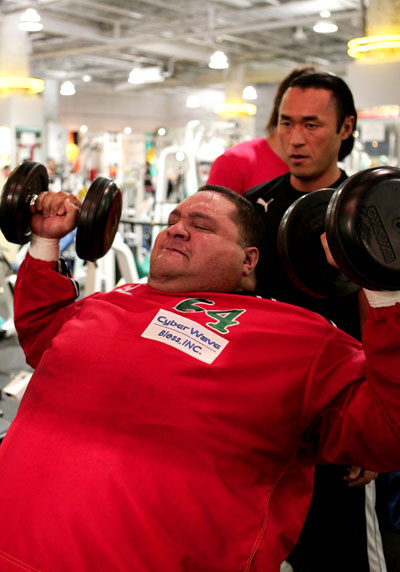 Thursday, December 16, 2004
by Jeffrey Thaler
 
 
TOKYO, Dacember 13 -- K-1 and Akebono have flown in Mak Takano, a world renowned personal trainer, to Japan to help Akebono prepare for his December 31 fight againstRoyce Gracie. Takana, who has worked with a number of world champion fighters in the past, left his home in Los Angeles to working with Akebono full-time.

Sherdog.com was able to catch up with Takano, and speak to him about Akebono's training. "It is an honor to train Akebono," Takana said. "You have to remember that he is a grand champion of Sumo, and the fact that he wanted me to help him for this fight is an absolute honor."

Takano has been helping Akebono work on his endurance and strength, and Takano reports that training is off to a fast start. "Akebono is doing very well. He has a very good attitude about getting involved in mixed martial arts, and it is so much closer to what he has done in the past than the stand-up he has been doing in K-1. But the experience he has had in K-1 is going to be invaluable for him because he has had a year of stand-up training and has fought top competition. I expect him to do quite well against Royce Gracie."

Takano became known in the fight world after training Oscar De La Hoya during a three-year run of undefeated fights. He has gone on to train former UFC and current Rumble on the Rock champion B.J. Penn, super-lightweight boxing champion Genaro Hernandez, welterweight champion Vince Phillips, and cruiserweight champion Vassiliy Jirov. Takano has also trained NBA All-Stars Magic Johnson and Vlade Divac.