Jabs at Dana White and the UFC from BJ Penn's New Book Why I Fight
by Ray Chin
 Although the news has been buried by bigger MMA stories, Dana White is clearly not happy about BJ Penn's new book Why I Fight?  White has said that 90% book of was untrue (but when pressed he couldn't give any specifics).  He already severed ties with the co- author Dave Weintraub so you know it is serious.  I figure to compile the jabs BJ Penn threw at Dana White and UFC.  I think they are rather tame and most of it are probably true.  You be the judge.
The Fertittas were jujitsu white belts and White was an aerobic boxing instructor; should they be judges of which guy will be a star? (page 161)
In those days, White was not the cocky and smiley guy he is today.  He didn't really know what he was doing, and everything seemed to overwhelm him. (page 162)
I have always wondered if Dana White has a book called The English Dictionary of Tough Sounding Words, and before every event, they just flip it open and point to one. "Looks like onslaught!" (page 172)
It was a funny thing to see Couture fighting on the main card, while Pedro Rizzo, a guy who made as much in one of his fight as I had made in all my fights combined, was in the first fight of the undercard. Money well spent. (page 181)
On top of that, Takano [from K-1 Romanex] seemed to have a true passion for the martial arts. (page 198) Of course implying that Dana White and the UFC didn't.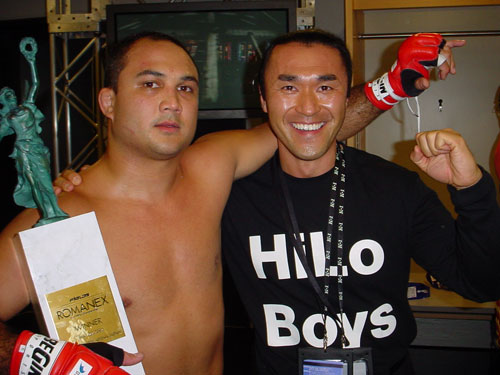 From that point on, I knew when it came to money, we couldn't trust him [Dana White] to treat us right. (page 201)
As a guy who'd never actually fought anyone in his life, he [again Dana White] considered these negotiations his fights, and he was not going to lie down. (page 202-203)
Hendrick said the only way this situation could now be resolved was if I came to the next scheduled event, walked into the Octagon with the belt, publicly apologized to White, and left the belt in the cage.  Did White think he was Vince McMahon?  Was this the WWE? (page 203)
I knew I had to have my guard up not only inside the cage but outside of it as well – indeed, more so outside! (page 204)
From the day the Fertittas took over the company, White had always proclaimed the UFC to be either the best organization in the world or the eventual best.  Holding the UFC belts, as White would lead you to believe in any conversation you had with him, meant you were the best in the world.  Their new legal claim, however, contradicted this completely, instead stating that a UFC belt was actually irrelevant when it came to assessing its value in the world of MMA... To win the belt and take it somewhere else, to defend it on another stage, was viewed by the UFC as both illegal and irrelevant. "Why go to Japan with the belt around your waist if it means nothing at all?" is essentially what they were asking. (page 206-207)
Since our first meeting, there have been about three versions of him [Dana White] I've encountered.  At the beginning, he was something of a jokester and was fun to be around,with no ego to speak of.  The second version showed up when he was no longer managing fighters but running the UFC.  He was still your friend, someone you liked to talk to and party with, but you knew in the back of your mind if he could get one over on you, he would.  Then came the third version, the one I was now going to have to deal with for the rest of my career, the famous Dana White.  The one who is always loud, outgoing, aggressive, in your face, and loves the spotlight, to the point where he made himself the face of a sport and a television show.  (page 230-231)
Dana White and the Fertittas never looked happier putting a belt around a fighter's waist than they did right then.  Hughes probably got a raise after beating me, and if he did, I'm sure it didn't take a lawsuit to make it happen.  (page 240)
While a fighter has to be talented and successful to earn the opportunities he gets, the UFC's matchmaking is not based on rankings, statistics, or who deserves a title shot.  It's based on how much money a match will generate for the UFC.  Nothing more, and nothing less. (page 253)
Again, I was seemingly alone in standing up for keeping drugs out of MMA. (page 258)
I imagine it is this way for most of their big- name fighters, but it seems every time I get involved with the UFC, there's always some type of drama.  The bigger the stage, the bigger the drama. (page 270)
In the end, I did not need a story to hype this fight, since it was being billed by many as the biggest fight in the company's history. [GSP vs Penn 2] The truth was enough for me; the hype should have been left to pro wrestling.  (page 274)
I probably missed a bunch but those are the big ones.  BJ Penn for the most part was respectful to those he mentioned in the book and again I tend to side with BJ Penn on this one.  But I can see why Dana White would be against this book.