For those of you that follow all fight sports like I do and having been involved in the highest level of boxing, kickboxing (K-1), and MMA. I think it is fair to say that boxing is no longer the dominant fight sport head-to-head. MMA fighters have become household names especially with the younger demographic.
With my involvement of training top boxers like Oscar De La Hoya, for 3 years of undefeated dominance in his prime, and Vassily Jirov, onetime undisputed cruiserweight champion. And with my involvement with champion MMA fighters like UFC Champion B.J.Penn, two-time HERO's Champion J.Z.Calvan, and recently crowned DREAM Featherweight Champion, Bibiano Fernandes, I am often asked how bigtime boxers would match up against MMA and K-1 fighters. To be respectful to professional boxing, I would have to say that it would depend on who's rules they fight under, and whether it takes place in the ring or the cage. If the boxer, is unfamiliar with the ground submission game in MMA, or the hard decapitating leg kicks of a K-1 kickboxer, they would not stand a chance. This is a proven fact, as I helped matchmake and train boxers for some of the most anticipated MMA/K-1 fighter versus boxer cards.
The first ever and perhaps the most significant match up was between former WBA welterweight champion, Vince Phillips (ranked top 3-5 in his division, and wins over Kostya Tszyu and Irish Micky Ward), and Japanese K-1 superstar Masato. In K-1 rules, a bout of 3 minutes and 3 rounds, kicks are allowed but unlike Muay Thai, elbows are not. This is so that fighters would not get cut easily with an elbow to the head, and so that fighters would engage in more boxing. One would think immediately that a hard hitting boxer like Vince Phillips could do a lot of damage in just 3 rounds. But he was facing the two-time K-1 Max champion Masato! Just as I thought, Masato low kicked Vince relentlessly from the bell. Although, Vince was able to get off a few punches initially, but he was being countered by Masato's nasty low kicks. As his cornerman, I told him that he had to eat a few kicks, hoping we'd see the famous Vince Phillips straight to take Masato out. But it was going to be an uphill battle under K-1 rules. 15 seconds into the second round, Vince was KO'd by Masato's low kicks. A great effort by Vince, and the result might have been different if it were a 12 round boxing match. I say might because K-1 fighters are also very capable boxers. Also, unlike traditional boxers, who are in most cases very slow to explode within the K-1 3 round rule, K-1 fighters are very explosive in those 3 rounds. And in contrast, a boxer would have the advantage of pacing himself in a longer boxing match, not to mention not having to take kicks to the thighs. (The low kicks definitely throws off the boxer. What's a boxer going to do without legs to stand on? A boxer might have felt pain everywhere, but never crippling low kicks to the thighs!)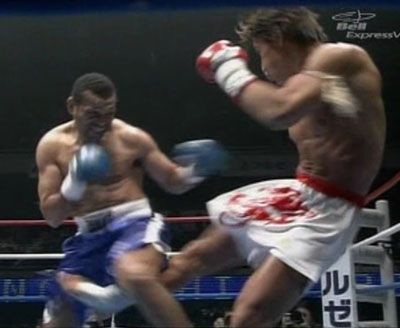 -Vince Phillips broke his arm attempting to block Masato's high kick in the First Round

In regards to boxing versus MMA, it is absolutely no contest if the bout is under MMA rules! With all the fighting variables in MMA and the longer rounds, a boxer will eventually get caught by the MMA fighter. I matchmade a ranked title holding boxer called Michael Lerma to fight Akiyama, a world champion judo-ka turned MMA fighter, in K-1's MMA event HERO's. Akiyama cornered Lerma into the ropes and took him down from the waist. Within a few seconds, Akiyama was in the mount position, then ground and pounded Lerma into submission. And most recently, I matchmade a fight between Japanese MMA legend Sakuraba and seasoned title holder, Rubin Williams. Rubin was recently a sparring partner to WBA boxing champion Arthur Abrahams, and he also had some wrestling background from high school. Sakuraba was coming back to the ring after a year absence, so of course I was hoping for a decent battle, but again, Sakuraba just low kicked Rubin to slow his feet, soon took him down, and submitted him with a Kimura. Rubin never even got to throw a punch!
So, in my experience under MMA or kickboxing (K-1) rules, boxers stood no chance. Although we are yet to find out if the circumstances were reversed for the MMA/K-1 fighter to fight a top boxer under their rules.
With much respect to boxers, although having a karate and kickboxing background myself, I was the strength and conditioning coach for Oscar De La Hoya, and I distinctly remember Oscar and his sparring partners giving me some boxing beatdowns. When it comes to hand speed, punching, and distancing, boxers are simply the best! The very reason why I have all my MMA and K-1 fighters work with the very best boxing trainers.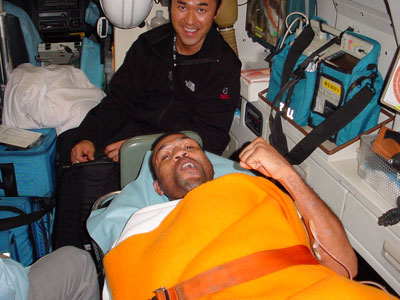 - 'Cool' Vince Phillips in the ambulance after the fight with K-1 legend Masato